So you want to minimize the footprint of your cold & frozen goods storage warehouse – but how do you maintain the right temperature in an energy-efficient way? Let us show you.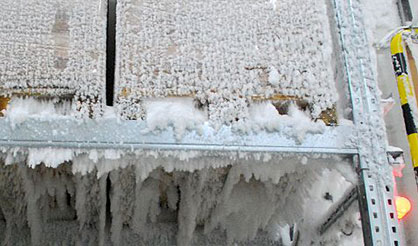 If you operate a cold & frozen goods storage facility, you'll already know the challenge comes in keeping costs to a minimum.
Our range of automated solutions that ensure high product-density will give you the best results, to allow you to:
Increase storage capacity
Save space
Cut costs
Operate down to -30°C
Our solutions suitable for cold storage include:
Mobile Pallet Racking
Drive-in Racking / Deepstore
Pallet Shuttle System
Pallet Flow Solutions
Mobile pallet racking storage solution
Looking for dense cold storage warehouse racking and a better use of your existing warehouse space? Mobile pallet racking is your optimal solution.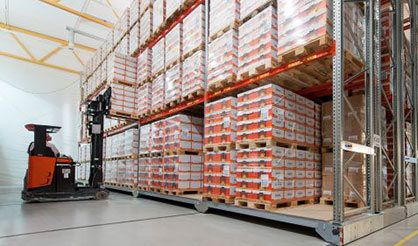 Maximizes floor space – only one operating aisle
Saves up to 40% of the space – required by conventional pallet racking
Increases your storage capacity by up to 80%
Helps reduce energy bills in cold stores
Provides 100% individual pallet access
Adapts to changing requirements – with modular design
Safety compliant with the European Directive 2006/42/EG and DIN EN 15095
The electronically-controlled MOVO heavy-duty mobile pallet racking system:
Runs on embedded rails
Carries bay loads of up to 24 tons
Allows for racking heights of up to 12 meters and runs up to 90m
Drive-in / Deepstore
Storing large quantities of similar or identical goods? Drive-in racking lets you use your existing space up to 90% more effectively, compared to conventional pallet storage systems.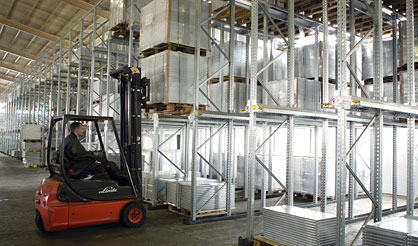 High density storage – maximizing cubic space
More pallets stored per cubic meter than any other storage system
Limited stock rotation – particularly suited for seasonal goods
Ideal for cold & chill storage applications
Accessible by First-In, Last-Out principle
Used for bulk goods of the same type
Pallet Shuttle System
If you not only want to save time and manpower, while removing the need for forklift trucks, then add the Pallet Shuttle System to your Drive-in/Deepstore solution.
The Pallet Shuttle System can work either as FIFO or as LIFO: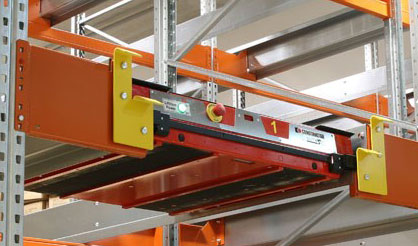 Efficient compact storage system for warehouses with low SKU levels
Optimization of storage, loading and unloading stages
Low-risk of stress to warehouse operating staff
Low-risk or damage to equipment, machinery & racks
Removes the need for specialist forklift trucks
Pallet Flow Solutions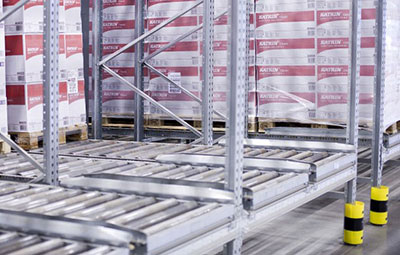 If your goods have a high rate of turnover or you need fast access, Pallet Flow racking is suitable for FIFO (First-In, First-Out) storage.
Uses up to 60% less floor space than conventional pallet racking
First-in, First-out (FIFO) operation providing automatic stock rotation
Dedicated load and retrieval faces – only two fork truck aisles required
Higher speed of operation within the warehouse
View more storage solutions